TRAFFIC CONTROL AND MANAGEMENT
KPI is a RMS, VicRoads and TMR Queensland accredited Traffic Management provider. Our traffic controllers are fully trained and accredited, and are supported by a fleet of equipped vehicles operating throughout Australia.
KPI specialises in major project and construction site traffic management. We are able to supply accredited Traffic Management Plans and Traffic Management Consulting Services.
We also have a varied range of equipment to suit all temporary traffic guidance schemes and road types including:
Variable Message Boards
Signage vehicles with Arrow Boards
Trailer Mounted Arrow Boards
Portable Traffic Lights
Extra traffic signals
Water Barriers
Concrete Barriers
Perminant signage installations
Pedrestian Barricades / deliniations
We work with you from the very beginning, formulating the appropriate Traffic Management Plan and liaising with all the relevant authorities.
We have leading technology platforms and processes that deliver the latest in planning and design. This allows us do design and deliver:
Construction Traffic Management Plans
Traffic Control Plans / Guidance Schemes
Vehicle Movement Plans
Swept paths
Special Event Management Plans
Trafffic Counts
Parking Studies
Council and Road authority permit applications
With this technology its allows us to import building plans, CAD drawings, Google Maps and Road Maps, all managed effectively via cloud systems and mobile devices such as iPads.
We co-ordinate pre-approval documentation from Council Permits, Road Authorities Permits, and Police Permits as required which allows KPI to provide a total traffic management solutions for our clients. Our services cater for any situation from basic stop/slow routines, to major road reconstruction operations with crew and equipment tailored to meet the specific needs.
KPI Construction Services is committed to the highest level of safety for our staff, clients and the general public.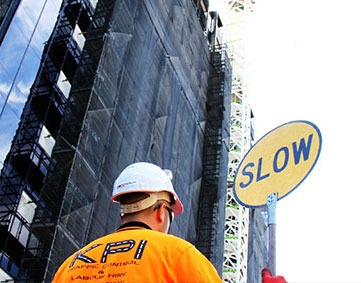 Why KPI Construction
KPI supplies multiple services for construction sites, organised reliability from a single call: Labour hire, Crane hire, Traffic Control. KPI Construction Services have the maturity and experience, the best people, best equipment and processes for the job.
RELIABILITY

SAFETY

PRECISION

QUALITY

EXPERIENCE